Sunday, September 18, 2022
Apparition and Message of Our Lady and Saint Maximin Giraud
Dry My Tears, for a Life of Perfect Conversion and Love for Me
JACAREÍ, SEPTEMBER 18, 2022
176TH ANNIVERSARY OF THE APPARITION OF LA SALETTE
MESSAGE OF OUR LADY AND SAINT MAXIMINO GIRAUD
AT THE APPARITIONS OF JACAREÍ SP BRAZIL
TO THE SEER MARCOS TADEU
(Marcos): "I will.
I will, My Queen.
Yes, I will do all four that the Lady asks of Me.
I am feeling such a great desire in My heart to glorify La Salette more, to exalt La Salette more, to defend La Salette more, and to make La Salette better understood, better known by everyone.
I am feeling such an uncontrollable desire, a fire, a flame of love, a fire in My chest, a desire to make a new La Salette film, but I already have the others that the Lady has asked Me to make in front of Me. What should I do? What does the Lady want from Me?
Then, I will follow this new inspiration that you have given Me and soon afterwards I will make the others that you have asked of Me.
Yes... To make the Apparitions of the Lady known to the whole world is My greatest joy, it is what I love most in life, it is My greatest pleasure."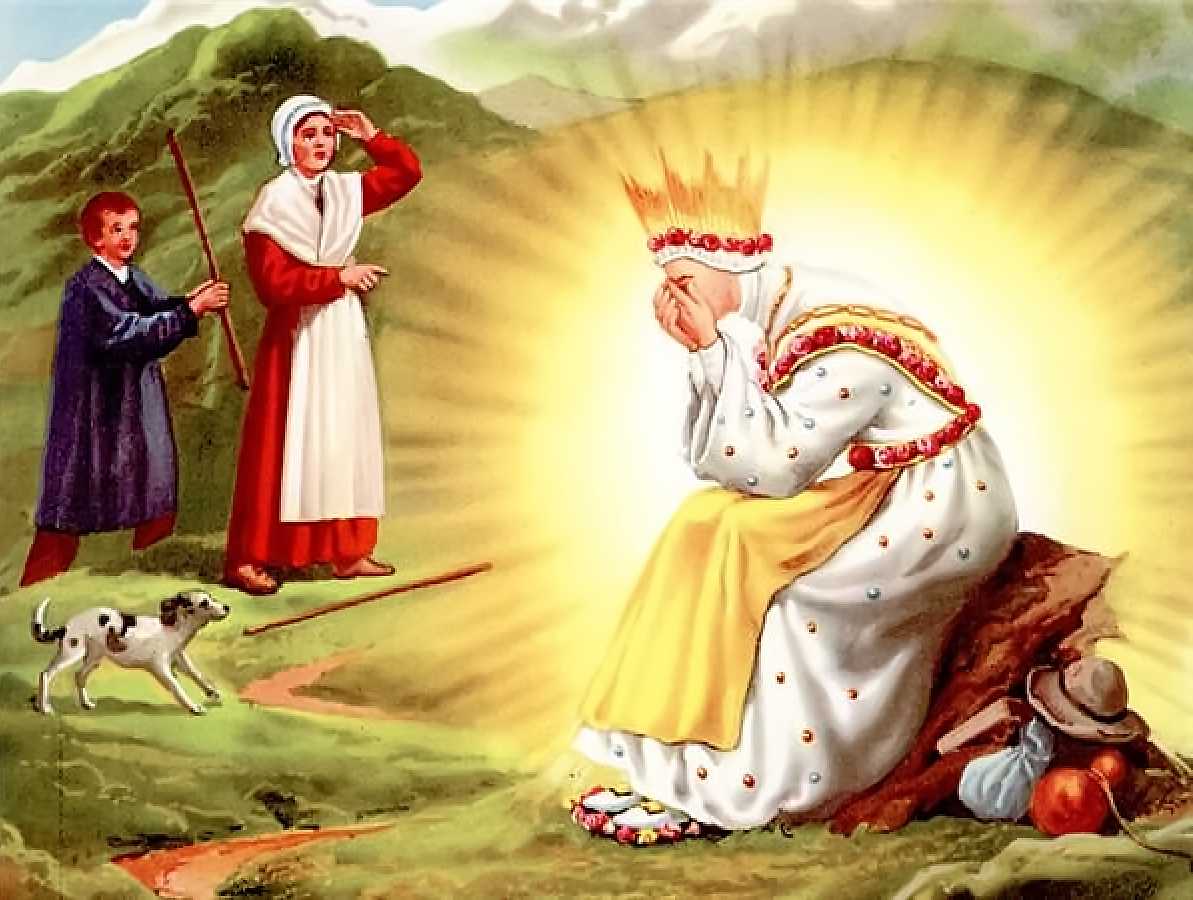 (Blessed Mary): "My children, today I call you again to conversion and to dry My Tears shed on the high Mountain of La Salette.
Dry My Tears, for a life of perfect conversion and love for Me.
Dry My Tears, for a life lived completely in God's presence, focused on serving God and dedicated to him. So that then, truly your lives become a hymn and a song of love to the Lord.
Dry My Tears by unburdening My son Jesus from the cross every day, with many prayers of love, many acts of love, of reparation, of atonement, of unburdening, of praise. So that then, truly from your hearts may rise to My son the most beautiful and most fragrant incense of true love.
Dry My tears by praying My Rosary every day for the conversion of My sinful children, who are the cause of My great pain and of all the tears I shed. Only in this way, I will suffer less.
Dry My Tears by doing the fast that I have asked for every Wednesday and Friday.
Dry My Tears by praying the Hour of Peace every day.
Dry My Tears by wearing My Peace Medal with love every day. So that I can unite with you, and I can pour upon you the efficacious graces of My Flame of Love to fulfill in you My plan of motherly love, which is to lead you along the path of holiness to Heaven.
Dry My tears by doing what My little son Maximino who is here with Me today did: detach yourself from all the things of this world, from all the people of this world, to love Me with all your strength and to love My son Jesus as well. So that nothing, nothing will hinder the flight of your soul to Heaven, to holiness, and nothing will stand as an obstacle between you and Me.
Dry My tears by announcing to the whole world My messages of La Salette, so that then My children will understand the signs of this time in which you are living, which is the end of times.
So that then, they will decide for conversion, decide once and for all to leave the worldly things, which have taken them away from God and which have made them despise the love of My son and crucify him again. So that he may become like you unceasing flames of love for My son Jesus, the Father, the Holy Spirit, and Me, and we may live in all of you and establish in you and through you in the whole world our Kingdom of Love.
Dry My Tears, living in God so that God may live in you by abiding in love, so that the love that is My son Jesus may abide in you.
My little son Marcos, you offered Me today throughout the day the merits of the La Salette 3 movie that you made for Me and also the merits of the meditated Rosaries 95, 128, 124 and 241.
You offered for your father Carlos Tadeu, you also offered for My son André who is here today consoling My Heart, you also offered for My children present here.
So, I am heeding the great charity and desire of your heart, converting the merits of these good works of yours into graces, into blessings to be poured out on My children.
I now pour upon your father Carlos Tadeu 4,908,000 (four million, nine hundred and eight thousand) blessings that he will receive tomorrow on the Feast of My Apparition at La Salette and for two more years in a row on the same Feast day.
On those of you who are here I now pour 5,608 blessings. And on My son André I now pour 9,723 blessings, which he will receive again next year, on the Anniversary of My Apparition at La Salette.
Also, at your request, liberated now, I will take with Me to Heaven 32,000 souls from purgatory, for whom you offered the merits of these good holy works.
Continue My son, continue to offer for so many souls who need so much. Offer also for the poor sinners who have no one to pray and to offer the meritorious value of your good works and sacrifices for them, to achieve for them the graces of salvation and conversion that they for their sins cannot achieve and for being dead to the grace of God have no more merits to achieve.
Only you can achieve for them this restoring, transforming, saving grace. Only you can deliver them from the prison with no exit, no walls in which they find themselves. So that they can see the light, accept the light, and embrace the light of My son Jesus.
I, thank you for taking away so many swords of pain from My Heart, that were stuck for so many years by contempt, forgetfulness and lack of knowledge, of love towards My Message of La Salette.
Thanks to you My Apparition is now known, is more loved, but there are still so many of My children who do not love La Salette, do not even know La Salette and there are so many who deny and hate La Salette, especially, My secret given to Melania.
So, I still need you. Go My knight, My ray of light, illuminate the earth with the light of the truth of My Apparition at La Salette, with the light of the truth of the mountain, of the Mountain of La Salette.
Go, illuminate this whole world around in darkness and make it shine for all My children: the splendor of My pain, My love, My concern for all My children and My desire to save them that I revealed in My Apparition at La Salette.
I will be with you and I will never leave you, you are My hope, you are My joy. Through you I will make La Salette triumph and when the whole world knows, loves, lives and obeys La Salette My Immaculate Heart will triumph!
Yes, you are My third Shepherd of La Salette, you are the continuation and conclusion of La Salette. My Apparition here is the conclusion of La Salette and thanks to you I have resurrected, My La Salette Apparition has resurrected. And through you and thanks to you I will triumph, I will return glorious on the clouds of Heaven with My two Little Shepherds and unite you with them, with Me and together we will annihilate the infernal dragon forever.
All of you, especially you I bless now with love:
of La Salette, of Lourdes and of Jacareí."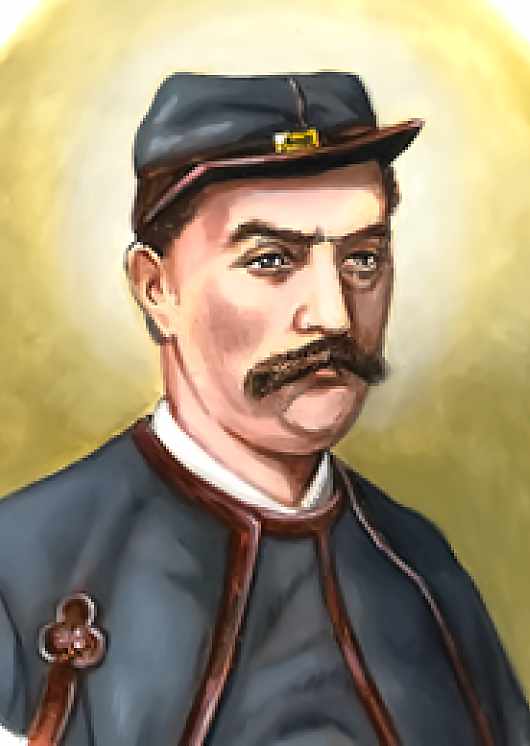 (Maximino): "Beloved brothers, I Maximin Giraud come today with our Most Holy Queen to say to all of you:
Detach yourselves from all things, so that you can have a free heart to love our Most Holy Queen Mary with all the strength of your hearts.
When I was on earth I said to those who reproached me for not getting married: 'After I have seen the Blessed Virgin I cannot attach myself to any person of this world.' I say the same to you: Don't get attached to any thing or person of this world or you will end up losing the love of God and the love of the Blessed Virgin. So much love you put into things and people, so much love you steal from the Lord and the Mother of God.
And the soul that does so becomes unworthy of their love and will eventually be abandoned by them. They will look for another soul who loves them more and they will give this soul their love and their predilection.
Do not be attached to anything of this world, so that your hearts may be free like birds that can fly high in the Heaven of the love of holiness and in the true bondage of love to the Blessed Virgin.
If you are attached to anything or anyone, you can no longer all be Mary's. And so, little by little you will grow cold in your love for her, you will end up weak in prayer, in virtues, in true slavery of love to her, and you will end up clinging to the earth and losing Heaven.
Do not cling to anything or anyone in this world, for those who do so become unworthy of the Lord who said: "Whoever loves father and mother more than me is not worthy of me. Whoever loves his son or daughter more than me is not worthy of me. Whoever loves his house, his possessions more than me, is not worthy of me. Whoever puts his hand to the plow and looks back is not worthy of me.'
Learn true inner freedom once and for all, because it is because you have attachments in your heart that you do not advance on the path to holiness, perfection, and true love.
Only when your hearts are free and you love the Lord and the Blessed Mother above all things, will you be able to grow in holiness and will you also be able to work for the salvation of souls with just love and the measure of charity.
Pray the Rosary every day, for it was by the Rosary that in a short time I climbed high on the path, on the ladder of holiness and was deemed worthy to be taken to the heavenly abodes by the Beautiful Lady of the Mountain who appeared to me and there now with her I reign gloriously forever.
Beloved Marcos, I bless you today and thank you, because it was not only from the heart of our Most Holy Queen the Mother of God, that you drew swords of pain when making the La Salette films. But also from my soul of my heart, because I have died of sorrow and grief for not being able to make the Message of La Salette sufficiently known and for not being able to overcome the persecution and opposition of so many of La Salette's enemies.
But thanks to you La Salette lives, thanks to you La Salette is risen and now so many in the world know the Message and the Secret that the Beautiful Lady gave to Melanie and me.
Yes, thanks to you La Salette is now more loved and thanks to you now souls, people, children of the Mother of God feel the desire to dedicate their lives to comforting her and drying Her Tears with a life of love and prayer.
Thank you my beloved brother, you are my continuation, you are my seed, for at the hour of my death I offered to the Lord and the Mother of God all my pains and the death that I suffered, that I had in great affliction and suffering. So that the merits of this would obtain from the Lord the grace that in the future an apostle, a holy soul of choice, filled with the flame of love, of the Holy Spirit would come into the world, would arise to defend La Salette.
My prayer was heard because this soul is you... you are my continuation. I had no children on earth according to the flesh, but I asked the Mother of God to give me a soul for a spiritual son, to continue my mission and make La Salette triumph.
That spiritual son is you, you are my continuation, you are the continuation of my mission, so I am more united to you than the air you breathe is from your lungs.
I love you, I bless you now, and I also bless you dear brother André, I am also your protector together with Luzia. Ask me for everything you need and I will get it from our Blessed Queen for you.
I bless you and all my beloved brothers and sisters also now with all my love."
MESSAGE FROM OUR LADY TO HER BELOVED SON CARLOS TADEU
(Blessed Mary): "My most beloved son Carlos Thaddeus, I wish you to spread to all My children even more the movie La Salette 2.
You must show it to My children who do not know it, you must explain to My children My pain, My affliction for the salvation of all of them. And you must make them understand, help them understand the connection of La Salette with My Apparitions here. And that the world is in the end times and that those who do not convert now will not be able to save themselves.
I give you this mission and proceed My son on the path I have pointed out to you. I am very close to your heart, listening to all your supplications and prayers. Soon I will give you the answer to two supplications, two requests from you, I will give you two graces.
I bless you once again and I say: Love the son I have given you in whom all My prophecies will be fulfilled and in whom I will complete all the plans I began at La Salette.
The more united you are to him, the more My flame of love will mold you and make you the very image and likeness of the very thing I placed in the heart of the son I gave you: My flame of love, My maternal goodness and love.
And with this flame you will attract to My heart all souls and I will convert sinners.
I bless you with love now."
MESSAGE FROM OUR LADY AFTER THE BLESSING OF THE RELIGIOUS OBJECTS
(Blessed Mary): "As I have already said wherever one of these holy objects arrives there I will be alive with My Little Shepherds of La Salette and St. Louise de Marillac carrying the great graces of the Lord.
I bless you all again so that you may be happy and especially you My little son André.
Thank you for coming to console not only My heart, but also the heart of My little son Marcos who lately has been suffering so much with so many problems, afflictions, caused by My enemy furious against him and all the work of salvation that he has accomplished in My name, for the good and the salvation of My children's souls.
Yes, today is your birthday, I give you another special blessing because of that and another additional blessing. Because even though you could be at your home with yours to celebrate your birthday, you left everything, renounced everything to be here to spend your birthday with Me giving Me thanks and thanking God for all the graces I give you. And also, supporting, consoling and helping My little son Marcos with your friendship, care and love.
Yes, you left everything and walked so many miles to be here just to comfort a friend.
Isn't this true love? He who loves gives his life for his friend. That's what you did.
The merits of true charity and love will be rewarded in time and in eternity, all in good time, by My Immaculate Heart.
Yes, you proved true charity and love for My little son Marcos and that will not be forgotten by My Immaculate Heart.
So stay in My peace, walk, continue in My peace because I will always be by your side helping you and protecting you from all evil.
Continue to live true love, true devotion to My Immaculate Heart, in time I will answer all your prayers and fulfill all your wishes.
Continue living true friendship and union with My son Marcos, the more you grow in this union, the more I will also unite you to My Immaculate Heart that lives in My son Marcos's heart.
To all of you I leave My peace.
See you soon!"
"I am the Queen and Messenger of Peace! I have come from Heaven to bring peace to you!"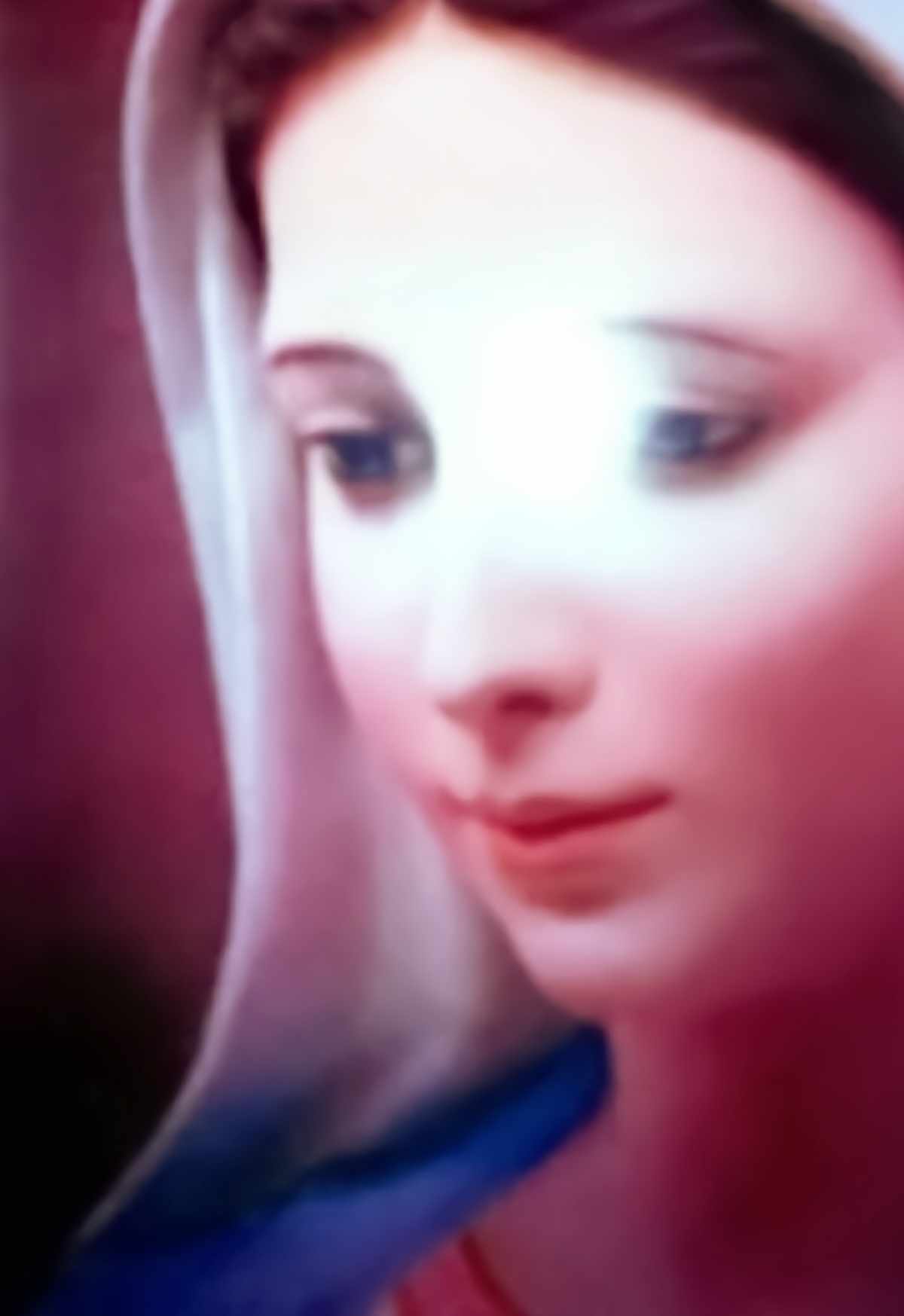 Every Sunday there is Cenacle of Our Lady in the Shrine at 10 am.
Information: +55 12 99701-2427
Address: Estrada Arlindo Alves Vieira, nº300 - Bairro Campo Grande - Jacareí-SP
Listen to Radio Mensageira da Paz
Watch this complete Cenacle on the official video platform of the Jacareí Apparitions
Purchase from the Shrine CDs and Dvds of movies and prayers and help in the work of Salvation of Our Lady Queen and Messenger of Peace
Movies of the Apparition of La Salette
Further reading...
The Apparation of Our Lady at Jacareí
The Apparation of Our Lady at Lourdes
The Apparation and Message of Our Lady at La Salette