Saturday, May 12, 2012
Saint Michael's Urgent Call to Earthly Militia.
Militant Army: I Need Soldiers Strenghtened in the Faith and Experienced in Spiritual Combat, to Join My Father's Armies!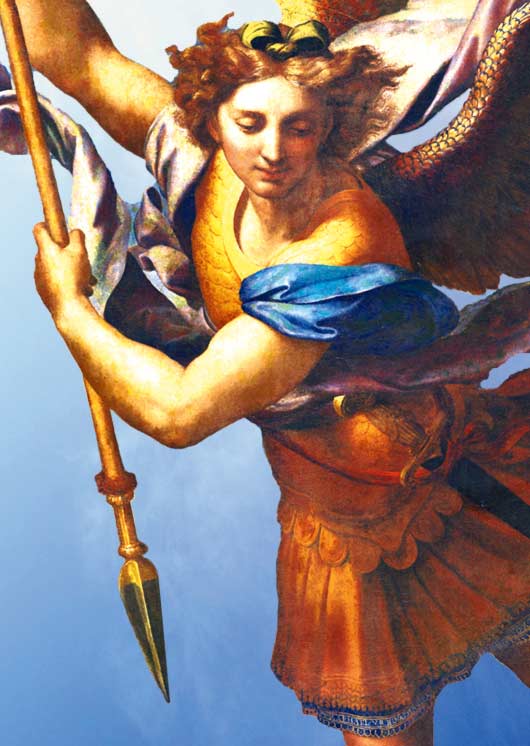 WHO IS LIKE GOD, WHO IS LIKE GOD, WHO IS LIKE GOD. ALLELUYA, ALLELUYA, ALLELUYA. GLORY TO GOD, GLORY TO GOD, GLORY TO GOD.
Brothers, My Father is about to begin His Divine Justice and it shall be those inscribed in the book of life who shall resist it; only those who preserve faith will attain the crown of life. Already the chalices of the Divine Wrath have begun to spill, !woe to you mortals who remain in sin and darkness without making heed to heaven's calls, for very soon you shall seek and will not find, you will call and no one will listen!
My Father's creation is about to be transformed and no one will be able to stop its labor pains. Beg for mercy and pardon before the trumpets stop sounding, for when silence and the tense calm arrives, it is then that all will be triggered. !O, impious nations, many of you will disappear after the passage of Divine Justice! Be prepared My Father's flock, for the hour of Divine Wrath is at hand! Light your lamps with prayer and unite yourselves around Our Lady and Queen; shepherds gather together your home and flock and cry to Heaven to overcome the days to come with faith and trust in Our Father so nothing and no one will bring you down.
Militant army: I need soldiers strengthened in the faith and experienced in spiritual combat, to join My Father's armies. They will be who in your world you call professional soldiers and encompass, along with the Angels and Archangels of the heavenly militia other battle front. Our Lady and Queen will guide us into victory and command with me the heavenly and earthly armies; and all united upon the battle cry: WHO LIKE GOD, NO ONE LIKE GOD, will defeat all evil forces from the face of the earth.
Hence, prepare yourselves militant armies, dress your complete spiritual armor given to our brother Enoch for the spiritual battle has begun.
SPIRITUAL ARMOUR
Start: With the sign of the cross. Seal with the Precious Blood of Our Lord – prayer.
1. EPHESIAN 6.10.18 SPIRITUAL ARMOUR WEAR DAY AND NIGHT AS A SOLDIER WHO GOES TO BATTLE.
2. PSALM 91, MORNING AND NIGHT.
3. ROSARY TO THE VIRGIN WITH THE CORRESPONDING MYSTERIES FOR EACH DAY WITH THE LITANIES, UNITED TO THE HOLY TRINITY, TO THE IMMACULATE HEART OF MARY, TO SAINT MICHAEL, ST. GABRIEL, ST. RAFAEL, GUARDIAN ANGEL AND THE HEAVENLY AND EARTHLY MILITIA.
4. COMPLIANCE WITH GOD'S COMMANDMENTS (REVIEW EACH EVENING TO MAKE GOOD CONFESSION).
5. BE IN THE STATE OF GRACE (CONFESSION AND COMMUNION).
6. SPIRITUAL COMMUNION.
7. ROSARY AND CONSECRATION TO THE PRECIOUS BLOOD OF JESUS CHRIST.
8. WORD OF GOD TO REPELL THE ATTACKS OF THE ENEMY (SEE GOOD SHEPHERD'S MESSAGE FROM FEB 21, 2011.
9. PRAYER TO THE ARMOUR OF BLOOD OF OUR REDEEMER.
10. EXORCISM TO SAINT MICHAEL GIVEN TO POPE LEON XIII.
11. COMBAT PRAYER TO SAINT MICHAEL.
12. CONSECRATION TO SAINT MICHAEL (SEE GOOD SHEPHERD'S MESSAGE FEB 25, 2011)
13. SUMMON TO THE HOLY ANGELS.
14. PRAYER TO THE GUARDINAN ANGEL.
15. PRAYER OF PROTECTION AGAINST MENTAL ATTACKS WITH THE BLOOD OF OUR LORD.
16. GOOD SHEPHERD'S ROSARY/CHAPLET.
Brother's, I am spiritually among you but after the warning and miracle you will see me, I come to prepare the earthly militia for the great spiritual combat. Be ready now so that when I call upon you, you may be part of the heavenly army. Glory and praise to the Lord of the armies. Glory and praise to the Lord of Lords. Glory and praise to God of Gods and Lord of life. Who like God, no one like God. May My Father's peace remain among you. Your brother Michael. Prince of the heavenly militia.
Make the messages from heaven known, men of good will.