Sunday, May 28, 2023
Final Preparations for This Pentecost
Message from Our Lord Jesus Christ to Latin-American Mystic, Lorena on April 8, 2023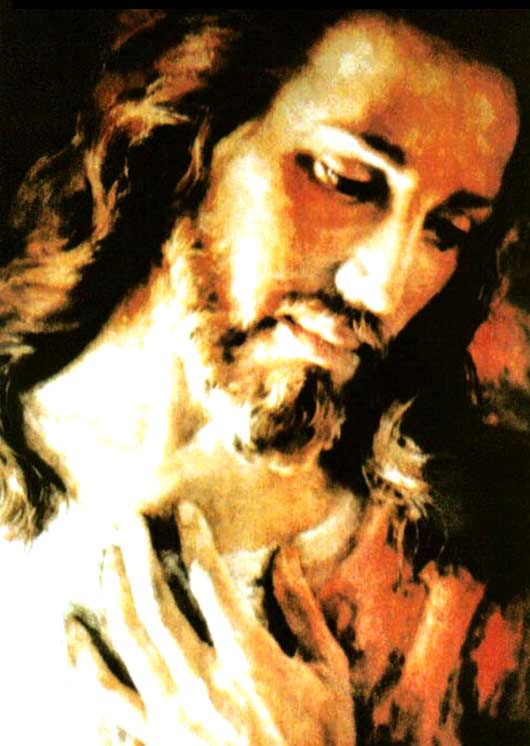 Dear Faithful Remnant today that we are in Holy Week, I want as your Lord Jesus Christ to remind you that you must live it with a Spirit of Prayer and Sacrifice, far from the World and in Spiritual Recollection so that I fill you with My Graces and My Gifts, for this reason prepare yourselves for this Holy Week as much as you can spiritually.
IT IS IMPORTANT THAT YOU LIVE THIS EASTER CLOSE TO ME AND MY MOTHER AND THAT YOU PREPARE FOR THIS PENTECOST, BECAUSE YOU WILL RECEIVE GREAT GRACES AND GIFTS FOR YOUR FINAL MISSIONS.
For this reason, prepare hard for this event, because I will come to call My People near Me, so that you can have the necessary Forces that I will give you in this Pentecost, to face EVERYTHING that comes, I will greatly anoint all of you with My Holy Spirit this Pentecost.
Many will receive Great Gifts and Charisms, for this reason it is Important that you prepare your Hearts and your Souls keeping in mind that it will be a decisive Pentecost in your Spiritual Lives.
Make a Confession of Life and remain in Prayer and Recollection, these days that precede Pentecost, Fasting and Sacrifice are also recommended, as well as Mortification of the Senses, Charitable Works cover a multitude of faults.
PREPARE YOURSELVES DILIGENTLY FOR THIS PENTECOST IN THIS WAY.
The days preceding the Feast of Pentecost, you will prepare to receive your Gifts and Charisms in the following way:
In front of the Most Holy Tabernacle, in Recollection and in Prayer, you will say this Prayer with a Contrite and Humble Spirit, repenting of ALL your faults and sins.
1ST PRAYER
(This Prayer should be said daily from today until Pentecost)
I, AS A CHILD OF GOD THE FATHER, PREPARE MYSELF TO RECEIVE ON THE DAY OF PENTECOST HIS GIFTS AND CHARISMS THAT HEAVEN WANTS TO GRANT ME, I RENOUNCE THE WORLD, THE FLESH AND SIN. I RENEW MY FIATS BEFORE THE HOLY TRINITY, SO THAT FILLED WITH THE HOLY SPIRIT, I MAY BE READY FOR THE DAY OF PENTECOST. AMEN
* You will say this Prayer from now on until Pentecost every day to prepare your Spirit, in addition to the Confession of Life, Prayer, Fasting and Penance.
Remember that Chaos will come and you will have to be ready to face the Great Tribulation and so that when My Father's Warning comes, you are totally ready to live it in a State of Grace and in the best possible way. On the day of Pentecost, after having given your FIATS, you will say this Prayer before the Blessed Sacrament:
2ND PRAYER
(You must say this Prayer, after repeating FIAT 1 and FIAT 2 before the Blessed Sacrament on Pentecost)
TODAY ON THIS PENTECOST I ASK FOR THE INFUSION OF THE HOLY SPIRIT IN MY SPIRIT, SOUL, BODY AND MIND, SO THAT THROUGH THIS INFUSION I MAY RECEIVE ALL THE GIFTS AND CHARISMS THAT THE HOLY SPIRIT WISHES TO BESTOW UPON ME ON THIS DAY, WHERE I PREPARE MYSELF TO RECEIVE THE LAST INSTRUCTIONS, THE DAY OF THE ILLUMINATION OF CONSCIENCES.
*Remember to RENEW your Consecrations to the Immaculate Heart of Mary and to the Sacred Heart of Jesus, as a Special Protection you will ask for the Protection of the 3 Archangels Saint Michael, Saint Raphael and Saint Gabriel, asking them to protect you and guide you on your journey to Heaven and New Earth, counting on the Protection of ALL the Angelic Court will do so through this Prayer:
3RD PRAYER
(Prayer to be said every day until Pentecost)
TODAY I, AS A WARRIOR OF CHRIST JESUS, ASK FOR THE PROTECTION OF THE THREE ARCHANGELS SAINT MICHAEL, SAINT RAPHAEL AND SAINT GABRIEL, SO THAT THROUGH THEM I MAY CARRY OUT MY MISSION IN THE END TIME AND GIVE MY BELOVED MASTER JESUS CHRIST THE SATISFACTION OF FULFILLING THE MISSION THAT HEAVEN ENTRUSTED TO ME FROM MY MOTHER'S WOMB. AMEN
And with this Prayer of Protection from the 3 Archangels and your Prayers of Pentecost, you will be equipped for Battle.
THE PRAYERS OF THE THREE FIATS ARE THE FOLLOWING:
THE FIRST FIAT GIVEN BY THE LORD JESUS ​​CHRIST
ON MAY 17, 2020
You will say it in front of the Blessed Sacrament and if not, you will do it in your homes, you will lit a candle, have a Bible and an image of the Blessed Mother, an image of Saint Michael the Archangel, the Holy Trinity and you will say this Prayer:
FIRST FIAT PRAYER
I AS AN APOSTLE OF THE END TIMES, AND AS A WARRIOR BELONGING TO THE ARMY OF OUR LORD JESUS CHRIST I SURRENDER MYSELF TO GOD THE FATHER, GOD THE SON AND GOD THE HOLY SPIRIT SO THAT THEY MAY TAKE ME AND FILL ME WITH THEIR STRENGTH AND POWER AND TO BE ABLE TO CARRY OUT MY MISSION IN THIS END OF TIMES AND AS AN UNWORTHY CHILD OF GOD THE FATHER I GIVE WITH ALL MY STRENGTH MY FIAT TO THE MOST HOLY TRINITY, SEALING A PACT OF LOVE BETWEEN HIM AND ME, WHERE I COMMIT MYSELF TO FULFILL MY MISSION AND ALL THAT HEAVEN ASKS OF ME, IN THIS BLOODY BATTLE BETWEEN GOOD AND EVIL.
I ANNIHILATE MYSELF BEFORE THE PRESENCE OF THE MOST HOLY TRINITY, SO THAT BEING NOTHING, I MAY BE ABLE TO FILL MYSELF LIKE AN EMPTY WINESKIN WITH THE FORCES OF THE HOLY SPIRIT AND WITH HIS EFFUSION IN MY SOUL, BODY, SPIRIT AND MIND TO BE READY TO BE ABLE TO CARRY OUT MY MISSION. AMEN
THE SECOND FIAT GIVEN BY THE VIRGIN MARY OF GUADALUPE
ON MAY 5TH, 2021
*You will place an Image of the Virgin Mary of Guadalupe, one of the Holy Trinity and another of Saint Michael the Archangel on your Altars and say the following Prayer:
SECOND FIAT PRAYER
AS AN APOSTLE OF THE END TIMES AND WARRIOR OF THE ARMY OF THE MOTHER OF HEAVEN, I WANT FROM NOW ON IN FRONT OF THE MOST HOLY SACRAMENT, GIVE MY SECOND FIAT TO THE MOST HOLY TRINITY, GIVING HIM MY WHOLE BEING SO THAT HE MAY TAKE IT AND MAKE OF IT WHAT HE WILLS, SO THAT THE HOLY TRINITY MAY CLOTHE ME WITH HIS MAGNIFICENCE AND PREPARE ME FOR MY PRAISEWORTHY MISSION. AMEN
The Third Fiat will be delivered on the day of the Illumination of Consciousness, it is given by St. Michael the Archangel on April 1, 2022. IT IS IMPORTANT TO LEARN THIS FIAT BY HEART.
THIRD FIAT PRAYER
I (Name) AS A CHILD OF THE MOST HIGH COME TO GIVE MY THIRD FIAT BEFORE THE MOST HOLY TRINITY AND WITH A PURE AND CHILDLIKE HEART, I SURRENDER MY WHOLE BEING TO HIM SO THAT HE MAY TAKE IT AND MAKE OF IT WHAT HE WILLS, I SURRENDER ALL MY WILL AND ALL MY POSSESSIONS, SO THAT NO LONGER I LIVE, BUT JESUS CHRIST, WHO LIVES IN ME, AND THUS ANNIHILATING MYSELF BEFORE THE MOST HOLY TRINITY, I CLOTHE MYSELF WITH THE POWER OF THE HOLY SPIRIT, IN ORDER TO CARRY OUT MY PRAISEWORTHY MISSION IN THIS END TIME. AMEN
***It is IMPORTANT that you learn it by heart and prepare for this Pentecost, where you will be given a part of the Gifts for the Battle with Prayer, Penance and Fasting.
Your Lord Jesus Christ, Who Cares, Guides and Protects you.
MARANATHA.
PDF DOWNLOAD (ENGLISH, 5 PAGES)
PDF DOWNLOAD (ORIGINAL SPANISH, 4 PAGES)
Source: ➥ maryrefugeofsouls.com